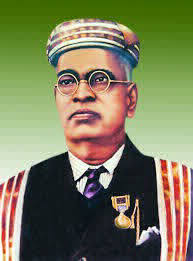 Vaidyaratnam P. S. Varier [Founder]
The Aryavaidya Patasala was started in the year 1917 at Calicut by Late Vaidyaratnam P.S.Varier, the founder of Arya Vaidya Sala and was run by the Arya Vaidya Samajam, a registered society. The Patasala was financed by the Arya Vaidayasala, Kottakkal.
A four years course leading to the diploma 'Arya Vaidyan' was conducted. In 1924, the Patasala was shifted to Kottakkal with a view to give practical training to the students in the Arya Vaidya Sala Charitable Hospital. The Arya Vaidyan course was abolished in the year 1958 and 'Diploma in Ayurvedic Medicine (D.A.M) course was introduced. In 1959, the Aryavaidya Patasala was upgraded as an Ayurveda College. The new course (D.A.M) was of four years duration followed by an internship training of six months. In 1972, the Ayurveda College, Kottakkal was affiliated to the University of Calicut and a new course, Bachelor of Ayurvedic Medicine (B.A.M), was started.